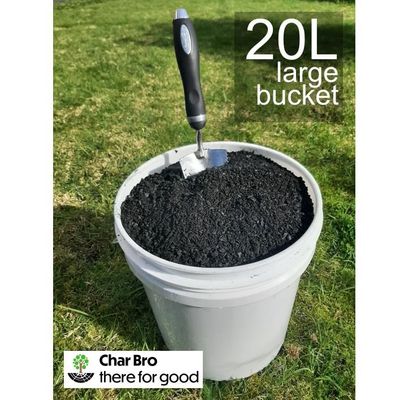 biochar 20L preorders for late November 2023
Char Bro Ltd
$49.00
Order ahead to secure your supply!
Order now to reserve biochar for yourself and your gardening friends. Your 20L bucket(s) will be available for shipping from the 20th of the month, ready for you to get your garden beds humming :)
What you get
Ordering here will secure 20 litre bucket(s) of biochar for you. Your biochar will be available for dispatch or pickup between the 14th and end of the month. Ready, set, grow!
Packaging
This can come with a sturdy, 20 litre upcycled returnable bucket with lid. Bring back your returnable bucket for a discount off your next bucket of biochar. It's our way of saying "thank you" for supporting us to enable a zero-waste, circular economy.
Made with love

This biochar was made in North West Auckland with love by our team
SKU: 10001-1-1-1-1